Continuing from article 2, we are still talking about multimedia jobs so that you can know how it all works. Today I will list some jobs that you can take that requires multimedia experience. When I have listed all of them to you, I will tell you about what they put on their resume, and what entails.
Multimedia Designer
IT-StratWashington, DC
Information Technology Strategies (IT-Strat) is in need of Multimedia Designer to join the team we are forming to create and post web documents, manage multiple websites, and provide multimedia support by creating multimedia to convey complex and technical information. Client Agency is DHS.Requirements Designer I: Top/Secret SCI level clearance. Bachelor's degree in Graphic Design, Multimedia Design, Art Graphic Design, Visual Communication or related field. Five (5) years of experience may be substituted in lieu of the degree requirement. Minimum of two (2) years recent experience in graphic design or multimedia environment. At least one (1) year of experience handling US classified documents. Experience using Adobe Creative Suite (InDesign, Illustrator, Photoshop, Acrobat), and Microsoft Office Suite. Requirements Designer II: All of the above, plus: Adobe Premier for video editing, and Microsoft Office Suite. Preferences: Thorough understanding of production and rendering methods including drawing, offset printing, photography, and time-based and interactive media (film, video, computer multimedia).
Multimedia Illustrator
U.S. Army Recruiting Baton Rouge –
Denham Springs, LA
This is an entry level position with no experience necessary. Multimedia illustrators are primarily responsible for operating multimedia-imaging equipment in order to produce visual displays and documents. They produce graphic artwork that is used in Army publications, signs, charts, posters television and motion picture productions. Job Duties: Create illustrations, layouts, map overlays, posters, graphs and charts Produce computer-generated graphics Draw cartoons for filmstrips and animation for films Work with television and film producers to design backdrops and props for film sets Attend Basic and Advanced Training (paid) Basic Qualifications: Age – 17 to 34 years old Education – Current Senior in High School(HS), HS Diploma, GED, GED equivalent, or higher education level completed Associates and Bachelor's Degrees (in any major or field) guarantee you an advanced promotion upon joining.
Remote Multimedia Graphic Designer 3

VirtualVocationsBaltimore, MD
An information technology and services company is seeking a Remote Multimedia Graphic Designer 3. Must be able to: Create compelling and easy-to-understand graphics to support company's proposals Interface with personnel at all levels of the company Required Skills: Ability to be available for the part-time, on call position during surge periods as well as to cover for vacations as needed Ability to work nights and weekends when required Flexibility to be available as needed (on call) 5+ years of experience designing graphics Expert-level understanding of how to use PowerPoint to create information rich, visually appealing graphics Ability to translate user requirements into compelling and compliant graphics
Graphics Designer/Art Director 3
TalentBurst, Inc.Sunnyvale, CA
Position Description
As we continue to increase touchpoints with customers and colleagues virtually, Client is looking for a Multimedia Designer, Virtual Events (MDVE) to support the flawless promotion, publishing, and educational events to leading publishing platforms including Facebook, YouTube, Vimeo, and ON24, among others. This role will sit with the company's Brand and Creative team, reporting to our new Executive Producer, Virtual Events, while working in tandem with multiple colleagues in the marketing and sales organizations. We are seeking a unique Designer hybrid – deep experience designing online and print collateral for in-person as well as virtual events and also created channel specific assets for digital and social promotion. We need your guidance and expertise to grow and drive a strong Client virtual event attendee experience.
Multimedia Artist- Videographer Job in Pembroke Pines Jooble
BoxyCharm, Inc. Pembroke Pines, FL
The Multimedia Artist – Videographer should specialize and know everything about the video world in terms of the content creation side and will be responsible for creating cohesive photo and video experiences for various forms of online content. The work will include shooting various campaigns for paid, social and print. The ideal candidate has the ability to deliver high quality work in a fast-paced environment while up against short timelines. This role plays a critical role in our creative marketing strategy that determines how our brand message is communicated to our customers.
The salary for these types of jobs are 33k to 88k per year.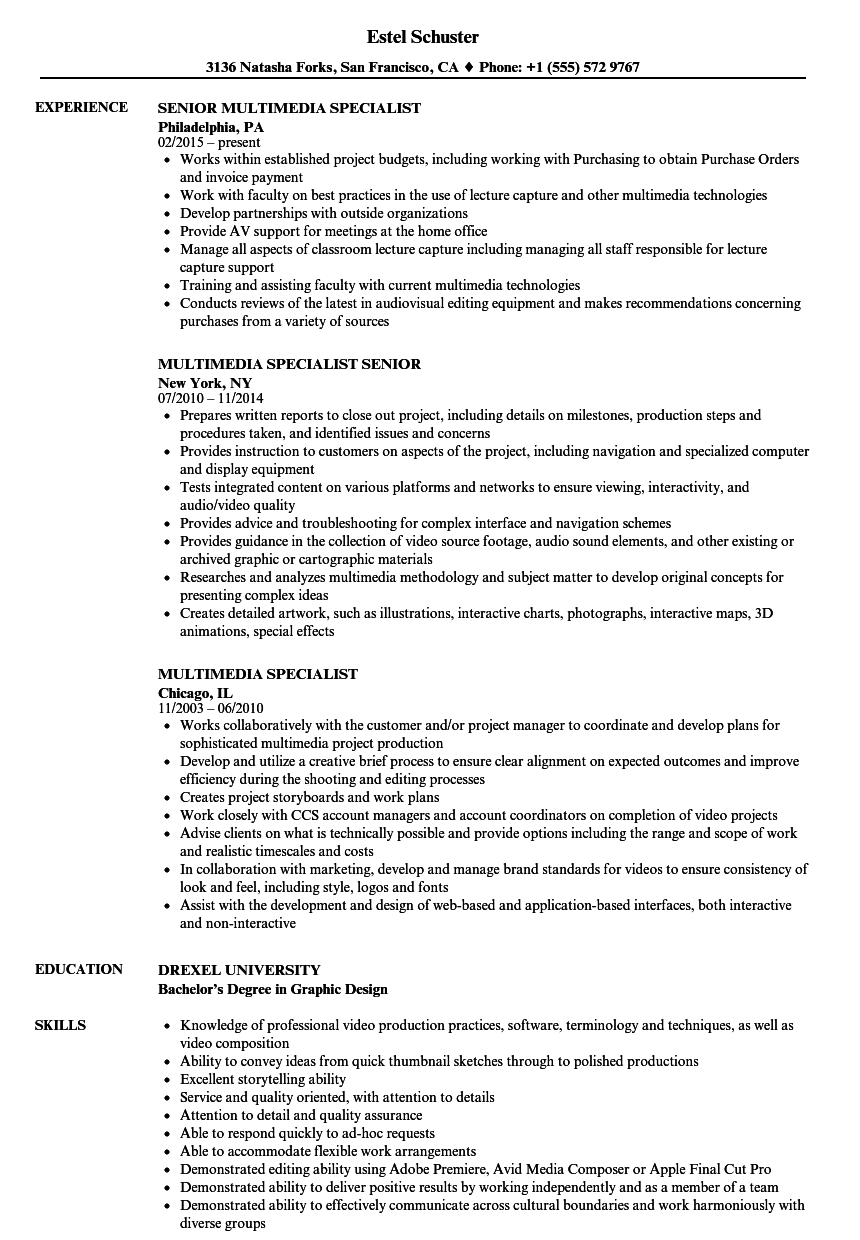 https://www.velvetjobs.com/resume/multimedia-specialist-resume-sample